Moment lenses started a few years back with a Kickstarter campaign, promising an interchangeable lens system for your smartphone that could rival DSLR and mirrorless cameras. They caught a ton of traction, and are now well-rooted in the market and respected as the originator of the high-quality smartphone lens movement.
The "O" range was the original Moment lenses, but they have a newer line out. We will take a look at the "M" Series of lenses and what they bring to the world of smartphone photography and videography. Let's take a look at these lenses and how they can help you be a better smartphone photographer or videographer.
Moment Lenses
Fisheye 14MM
Fisheye 15MM
Wide 18MM
Tele 58 Lens
Macro 10x Lens
Anamorphic Lens (Video)
M Series Cases
Build Quality
Moment lenses are of incredibly high quality. You won't find any flimsy plastic parts here, just robust metal housing and high-quality glass. You can carry these lenses around in your pocket and feel perfectly safe knowing they will not get damaged.
The quality is way higher here than other interchangeable lenses for cell phones that are available. While there aren't a ton of competitors that offer this much variety, there certainly aren't any that come close to the high-quality machining on these Moment lenses.
Moment Lenses – Fisheye 14MM
Getting an extremely wide shot with a smartphone is difficult, especially if you are looking for that artistic fisheye style. Moment has remedied that with their 14mm fisheye lens. The 14mm is the widest lens they offer, but is it any good? Let's see.
Sharpness
The sharpness is the most impressive thing about this Moment lens. Often, when going ultrawide with a fisheye distortion1 will make your images and video footage quite soft. The edges tend to suffer the worst of it, but this lens is quite sharp all the way across.
Distortion
Distortion is what you are after on a fisheye lens. You want that subtle warping effect that became so popular from action cameras such as the GoPro. If you are shooting for that action camera look, the 14mm fisheye will impress you right out of the box.
Photo Performance
This lens takes impressive photographs. As mentioned in the sharpness test, the engineering that went into the glass on this Moment lens to make it sharp from edge to edge is quite phenomenal. While most will buy this lens to get that excellent action camera video look, you will still be able to take ultra-wide photographs that will blow your friends away.
Video Performance
Now the real test, can this lens replicate a GoPro or action camera to get an epic skateboarding or outdoor shot? The answer is a resounding yes! This lens has a nice even warping effect around the edges and can provide video that matches or surpasses even the newest action cameras.
Specs
Moment Lenses Fisheye 15MM
Are you impressed by the 14mm fisheye lens above, but don't want to drop quite that much money on it? Luckily, Moment still offers their 15MM fisheye lens (once called the Superfish) for sale. It is going to be a more affordable way for you to get that ultrawide, fisheye effect on your Moment Lenses M series compatible case.
Sharpness
Not as impressive as the 14MM here, you will notice a bit of blur around the edges where the fisheye is the strongest. The blur is due to the slightly inferior technology in this lens, which they cleaned up and improved with the 14MM offering. The center is still sharp enough to get great shots.
Distortion
Since this lens is not as wide as the previous, you will get a touch less in your shot, but that gorgeous barrel distortion is still present. If you enjoy that bowing at the edges of your shots, this lens will be perfect for you. Again, it is aimed directly at the action camera market and does an admirable job giving the same feel.
Photo Performance
The softer edges will be more noticeable in still images, as the movement from a video can mask it a bit. So photographs on this lens are inferior to the Moment 14MM lenses above but are still very good. At the reduced price point, it is still one of the best options for taking wide-angle photographs.
Video Performance
The video produced by this Moment lens, in conjunction with a reliable camera phone, is outstanding. The barrel distortion and overall look will remind you of those old skate videos from the 80s and 90s—impressive performance from such a tiny lens using nothing but a phone camera.
Specs
Moment Lenses Wide 18MM
The 18MM is the cream of the wide-angle crop. This wide-angle lens from Moment is a show stopper, and a must buy if you need the wide look for your next photography or videography project. Not quite as wide as the fisheye lenses above, yet still wide enough to give you great establishing shots in your short films or landscape photographs. Super versatile, and a great piece of kit to own.
Sharpness
Only one word can describe the sharpness of this Moment lens: fantastic. This lens is exceptionally sharp in the middle, as good as can be expected for a phone lens accessory. The edges do have some blurriness due to the slight barrel distortion present, but it is not overly aggressive. You won't find a wide-angle lens that can produce photographs this sharp from any other brand.
Distortion
While not as noticeable as the fisheye lenses above, you will still get a decent amount of barrel distortion with the 18MM lens. It has quite a beautiful look to it, adding a bit of artistic flair to both landscape and portrait photography. On the video side, it gives a bit of the same, just a small amount of distortion that can add a bit to your shot.
Photo Performance
This lens is extremely versatile when it comes to photography. Whether you are looking for a nice wide-angle landscape shot or a beautiful portrait, this lens could be the one for you. If you only buy one lens attachment for your photography, this would be a good choice.
Video Performance
The only wide-angle lens you should consider if you don't need the fisheye look. This lens is perfect for getting your wide shots, especially establishing shots where you need to show a large portion of your scene—a must-have for the phone videographer.
Specs
Moment Lenses Tele 58MM
The 58MM is the updated telephoto lens from Moment, replacing the previous 60MM offering. This lens improves on its predecessor in every way possible, giving you an enhanced telephoto experience. Let's see just how it improves over the 60MM, and why it deserves to be in your arsenal.
Sharpness
The sharpness on this lens is near perfect. There is very little loss of clarity from the center to edge, which is almost unbelievable on a cellphone lens. If you want the clearest telephoto lens possible out of your phone, you will not find a better lens on the market than the Moment 58MM.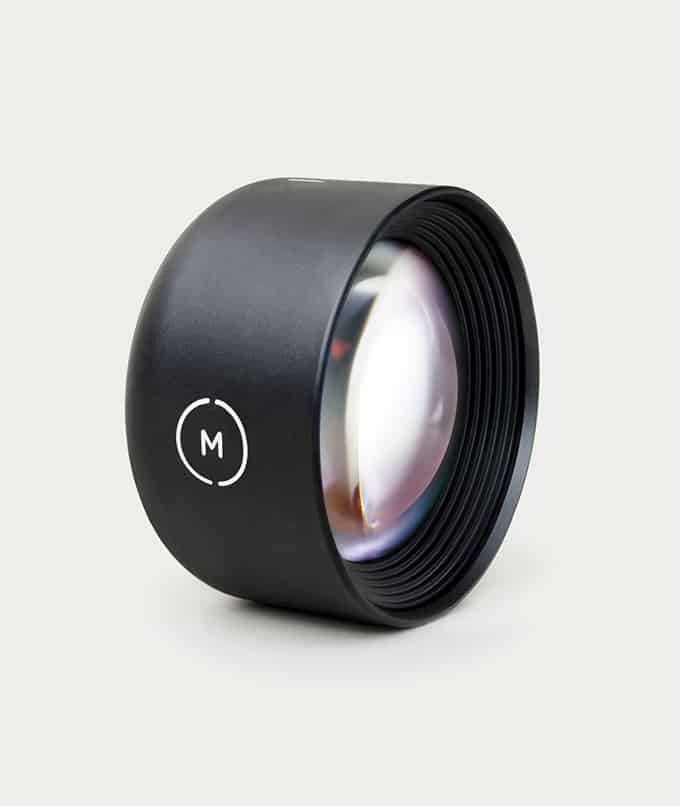 Distortion
One significant improvement over the previous telephoto lens is the lack of vignetting and chromatic aberration. The 58MM looks nice and clean in both photographs and video, with hardly any distortion of any sort. This new and improved lens is a perfect example of "you get what you pay for," as the extra you spend here clearly goes into making a superior product.
Photo Performance
The 58MM is the best portrait lens on the market for cell phones at the moment. It is incredibly versatile, and with a suitable camera module behind it, it can capture some excellent close-ups with beautiful bokeh in the back. If you take a lot of portraits, there is no reason to even look at any other lenses.
Video Performance
The clarity and lack of vignetting and distortion make this one of the most beautiful cinematic lenses. If your phone camera is capable of capturing 4K video, the results you can achieve with this lens is stunning. If you want dramatic close-ups and cinematic medium shots2, this lens fits that use perfectly.
Specs
Moment Lenses Macro 10x
Macro photography has seen a rise in popularity as cell phone cameras have become the primary camera3 for most people. Who doesn't like to see a nice close up of a cool bug or flower? The Macro 10x Lens from Moment will let you catch all those awesome macro shots, and leave your friends jealous of your photographic abilities.
Sharpness
With an extremely shallow depth of field, most of the frame in images shot with a macro lens will be out of focus. You want the subject in the middle to be as sharp as possible, and this Moment lens does an outstanding job. While not as sharp as some professional DSLR solutions, it is still impressive given the pocketable size.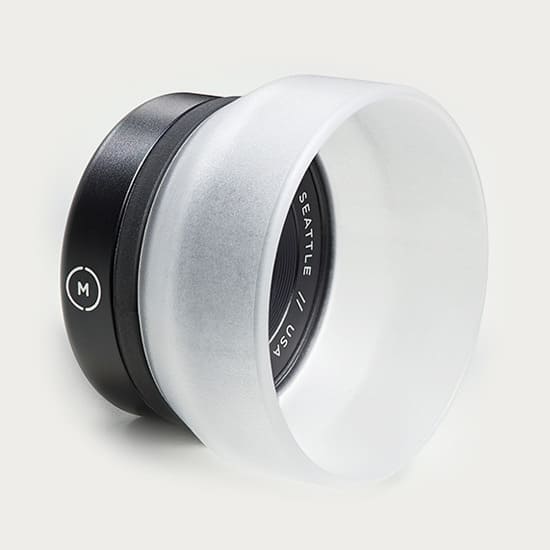 Distortion
Nothing more than what you would expect here. Super shallow depth of field is the only thing that distorts the image, with no noticeable chromatic aberration here. Excellent performance for such a small macro lens.
Photo Performance
This lens is capable of taking awe-inspiring images. Stunning macro photography is at your fingertips, whether shooting flowers, eyes, water drops, or anything else your creative mind can conjure up. This lens will not disappoint.
Video Performance
Video performance is identical to the photo performance here. While macro isn't used as much in video, if you are looking for a macro shot of something like a book with text with a super shallow depth of field, this lens would do the trick. Video is secondary when it comes to using a macro lens, but it is more than capable of that as well.
Specs
Moment Lenses Anamorphic (Video)
One of the main differences between cinematic video and what you can shoot with your phone is the use of anamorphic lenses. With some excellent video characteristics like the stretched video and blue lens flares, chances are your favorite movies were shot anamorphic. Moment has created this anamorphic lens to help you shoot better video, but how good is it?
Sharpness
Sadly, this is where you will be giving something away with this lens. As the sensor size does not change by adding a lens to the camera, you will not be getting any extra information though the lens can technically "see" more on the sides. When you de-squeeze the anamorphic footage, the image will lose sharpness due to the stretching of the image, but it isn't extreme.
Distortion
You get tons of distortion from this lens because the entire image, which is 33 percent larger with this lens, will be squeezed into the standard image size. However, this is not a bad thing; it is what you want! When you de-squeeze the image either in post-processing or the Moment app, you will get that sweet anamorphic look you desire.
Video Performance
While you technically can take photos with this lens, video is the real purpose of its existence. Creating a video is where you will see the most benefit with that stretched look and the oh-so-sweet anamorphic lens flares. If Michael Bay or JJ Abrams is your biggest inspiration, this lens will be an excellent stepping stone for you to reach action movie stardom. Video performance is excellent here, and you will be able to capture some genuinely cinematic scenes with the right lighting.
Specs
M Series Cases
We touched on how durable and well made the actual Moment lenses are earlier, and you will be pleased to know that the cases are just as lovely. They feel robust and durable in hand, and they will give you confidence that your phone will be safe even in the most disastrous of drops.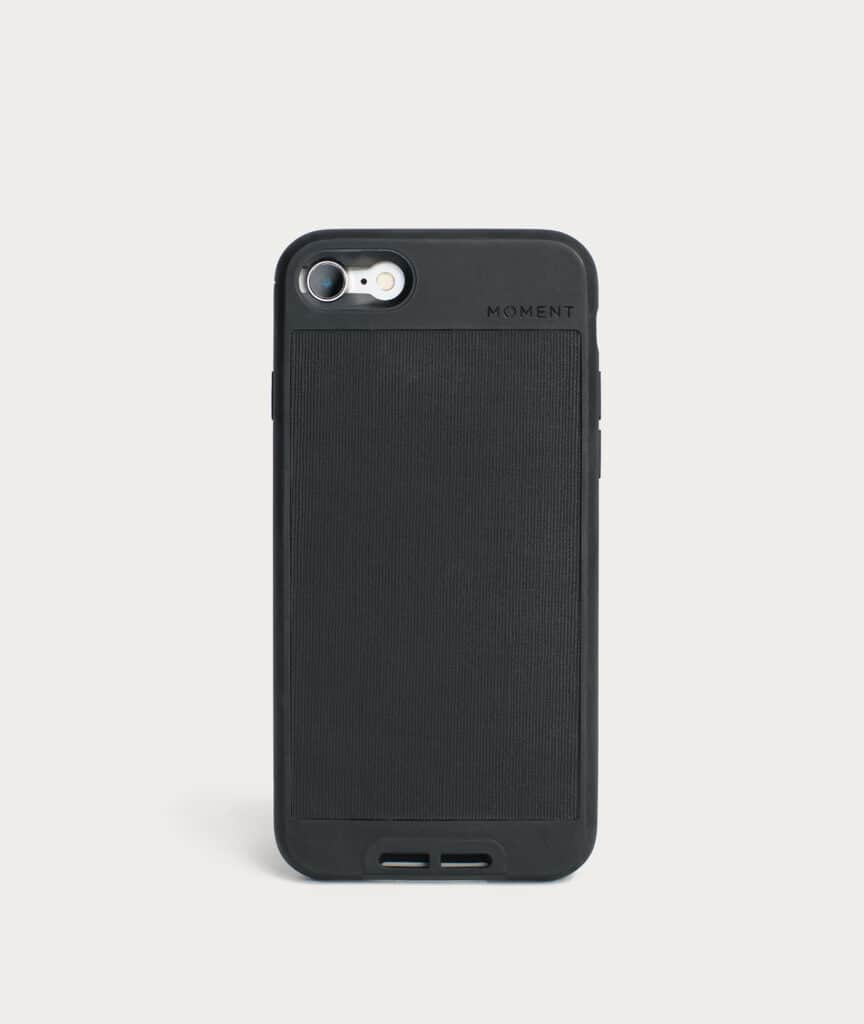 The lens adapter over your phone's camera is well-engineered, with the lenses locking in tightly without any wobble. The entire rig with lens and case feels like one unit when combined, and the overall build quality is superb.
They offer cases for a nice range of phones, including iPhone, Samsung Galaxy, Samsung Note, Pixel 4, and more. As long as your phone is a newer, high-end model, you can rest assured that Moment has designed a case for your phone.
Conclusion
There you have it, a rundown of Moment's M series lenses and cases. They are all alone in first place when it comes to interchangeable lens systems for phones, and no one is relatively close. If you are serious about phone photography or videography, chances are you already know about these lenses and are ready to purchase. There is no reason to hesitate; the products listed above will increase the quality of your work drastically.