Phone cameras are increasingly getting better year on year and so too are the accessories. Add on camera lenses for smartphones are growing in popularity, so in this article, we look at which is the best phone camera lens for 2019.
From our research, the best phone camera lens is the Moment Wide Lens for iPhone, Google Pixel and Samsung Galaxy. If you don't own one of these camera phones then the add-on lens you should get is the Xenvo Pro Lens Kit.
Throughout this article we will explore some of the reasons why we rate both these brands as the best, but before we do let's explore why you need an add-on lens, attachment methods, price and some of the differences in the models.
What Are Phone Camera Lenses?
Add-on lenses for phone cameras have been around almost as long as the first Apple iPhone. An add-on lens is an external lens which encapsulates your existing smartphone lens to either magnify the focal length to get closer or detract from the focal length to provide a wider angle.
When add-on lenses first entered the market, the quality was poor. Many used cheap optics to compete on price, and the result was often flaring in high contrast situations.
Over time though, the quality has vastly improved. Now, when you are looking at buying a phone camera add-on lens, you can be sure that you are buying quality, especially if you are spending over the $100.
Most add-on lenses can be bought in kits. A kit may include a wide angle and macro lens. Our recommendation is to purchase these lenses together, but be careful when you see multiple lens configurations on Amazon and eBay as the quality of clip on lenses differs greatly. We will explore some of the add-on lenses in more depth later in this article.
Why do you need Additional Smartphone Lenses?
The reason why you might want an add-on lens for your camera phone is to obtain more or less of a subject in a photo. A good example might be if you were visiting the interior of a cathedral. Looking up at the roof once you enter, you might notice an expansive artwork.
Most phone cameras only have a lens which is wide enough to shoot around 26mm-28mm. In translation, your phone camera lens wouldn't be able to capture the full extent of the roof's detail. So, this is where an add-on lens can help.
By adding a wide angle lens to your phone camera, you could have a broader view to see more of the cathedral's artwork on the roof. The focal length of your camera would be wider and go from 26mm-28mm to 16mm-18mm once you have the add-on lens attached. As most add-on lenses are inexpensive they are worth taking along with you wherever you might go.
How to Attach an Add-on Lens to a Phone Camera
There are two ways of adding a lens to your existing phone camera. The first method is to use a photography case, and the second way is via a clip.
Clips are becoming more popular due to their universal compatibility, especially with so many models released from Samsung, Google and Apple. Photography cases, on the other hand, are specific to each model of phone.
Phone cameras are moving away from individual photography cases to suit particular models; instead, they are offering interchangeable lens systems to cater to the ever-expanding range of camera phones.
Add-on or Clip-on Phone Camera Lenses?
Add-on lenses are more affordable options for phone users. There are numerous ways to clip on an add-on lens to your existing phone camera. Before you purchase your lens, check the compatibility to ensure the lens will work with your model.
Then make sure you don't exert too much pressure when clipping on the lens to your phone camera. Otherwise, you could damage some of the optics. Also, ensure you remove the case on some phone camera models, so they achieve the best optical image quality.
Photography Cases with Interchangeable Lenses Will They Suit You?
Photography cases offer much more flexibility over a clip-on lens; this is because add-on lenses for photography cases are interchangeable.
The advantage is a perfectly aligned lens on top of your phone camera lens whereas clip-on lenses can overlap your field of view or cover your flash resulting in a misalignment of the shot if you are in a hurry.
Moment's lenses lead the way for photography cases. Moment caters to three leading brands, Apple, Samsung, and Google. With these cases and lenses costing more than the average kits combined, you know you will be getting a quality optical product compared to the rest. It's all about the glass quality and Moment delivers this in each of their lens lineups.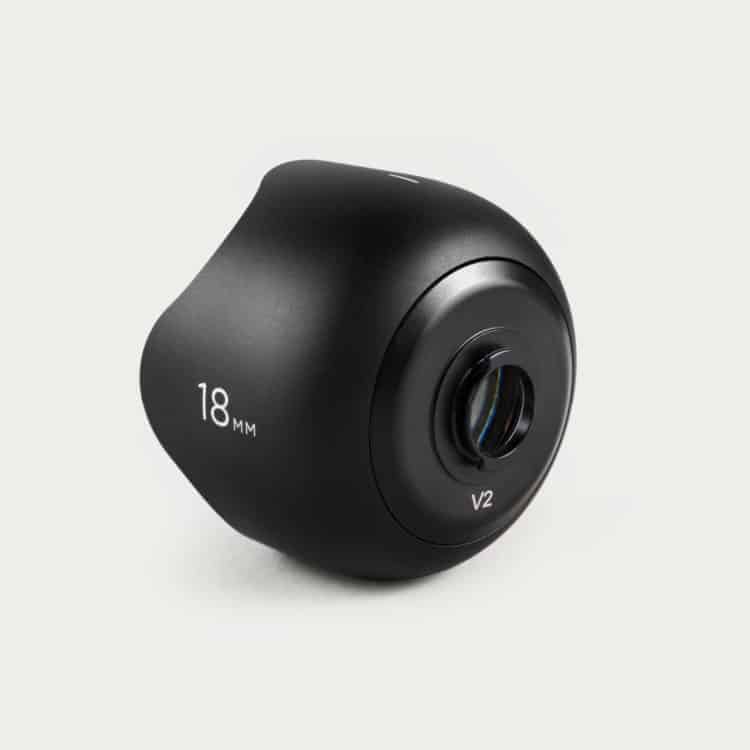 The Settings You Should Change on Your Phone Camera When Attaching an Add-on Lens
When experimenting with add-on lenses, you need to consider the camera settings on your phone. As you are adding more glass to your lens, changing some settings will make quite a difference. The first setting you should look at is exposure.
Most high-end phones from Apple iPhone, Google Pixel and Samsung Galaxy, have a manual setting or professional (pro) setting where you can change the settings manually.
Once you have found the manual mode look for exposure compensation, it is best to increase your exposure compensation to +1 if you are using a telephone add-on lens as the additional glass will cut out more light. If you are using a wide angle, depending on the light, you may need to decrease or increase the exposure value. The live view will determine what setting you may require.
The other settings we would recommend changing include the resolution and face detection function. Ensure set your phone camera to photograph at the highest resolution you can.
Add-on lenses will degrade the image quality ever so slightly, so it's best to have the highest resolution setting turned on. Face detection will also assist with focusing through additional glass elements, although you may experience some focus issues with add-on lenses in very low light conditions.
A Summary of Price Ranges for Add-on Lenses
Not all things are created equal, and the price is sometimes the best measure of quality. Prices for add-on lenses varies from $20 to over $100 and like all things in this world, the higher you pay, the better the quality.
If you apply the same reasoning to your smartphone purchase, it may have been why you chose Google, Apple or Samsung.
The reason why this doesn't have too much to do with design, but rather the glass quality used in the add-on lenses. As you explore the range of add-on lenses, you may notice no lens does it all. You can't have a wide-angle and a telephoto lens in one, so you should expect to buy these individually.
If you are searching on Amazon or eBay for add-on lenses there are endless listings – it can get confusing, so use this basic principle.
The more lenses a kit contains at a lower price then the lower the quality of the lens. It sounds simple, but you will be surprised how many people fall for the trap of the 'best deal'.
So if you are looking out for the best add-on lenses for your Samsung Galaxy, Google Pixel or Apple iPhone camera phone, you should expect to pay around $100 per lens. Anything under $30 is a waste of time.
We will make a note of some of the more basic kits you will see at this price point so you can at least be aware of them, but in our opinion, steer clear of them and go with the best.
The Best Phone Camera Lens Brands to Buy for Your Apple, Google or Samsung Phone Camera
Moment Wide Lens for iPhone, Pixel and Samsung Galaxy
At an impressive 18mm, the quality of the glass is exceptional. Nothing is competing in our minds. The newly achieved focal length allows a photographer to see twice as much as what they did previously. Best of all, the lens works with premium models in the phone camera range. So if you own an Apple iPhone, Google Pixel and Samsung Galaxy, then chances are the Moment will work accordingly.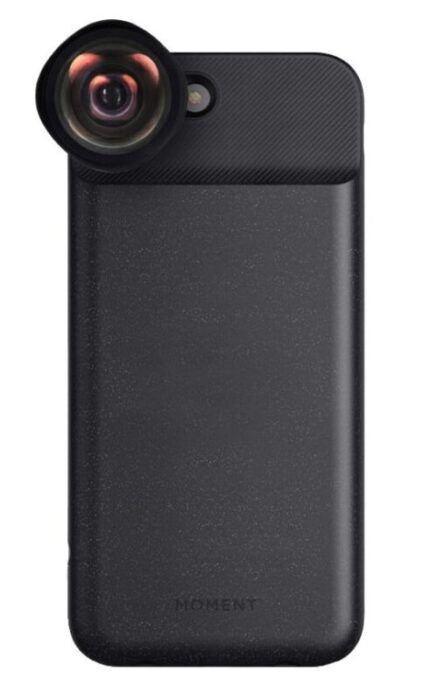 There is a price to pay for higher quality, but in practical terms what you get for your money is worth it. Images appear crisp, without distortion, and you will find this lens is perfect for capturing everyday activities, without having to step back to fit more in the frame.
Another excellent feature of the lens is interchangeability, which means if you have friends who own a different Moment lens, then you can swap, and both use the lens on your camera.
Olloclip Add-on Lenses
Olloclip certainly rates in the entire lineup of add-on lenses in terms of quality. Their lens range expands into three categories, wide, macro, and telephoto with three different levels of quality; intro, essential and pro.
Olloclip offers multiple kit configurations, which include up to three lenses in each package. Each lens easily attaches to specific phones or universal phones via the Connect X Lens System. However, some of the image quality isn't as good as what you see on lenses by Moment.
Olloclip Super-Wide Lens
The Olloclip Super-Wide Essential Lens works with iPhone 8/7 or iPhone 8/7 and requires a unique clip to attach to the phone case.
When connected, the add-on lens will increase the field of view over double the size. This is ideal for users who require a lens to capture 360 degrees VR photos and video time-lapses or panoramas.
Olloclip Ultra-Wide Lens
The Olloclip Ultra-Wide Essential Lens works with iPhone 8/7 or iPhone 8/7 Plus and requires a unique clip to attach to the phone case.
Once connected, the lens will widen the field of view more than the Super-Wide Lens. This wider angle is making the lens ideal for capturing big group selfies, landscape and architectural shots. The quality of the multi-element coated glass optics is also consistent with the overall image sharpness.
Olloclip Super-Wide Pro Lens
The class-leading Olloclip Super-Wide Pro lens models itself on the well-adopted Essential Super-Wide, but with more light gathering capability and little to almost no distortion.
The beauty is when using this lens; you enhance the existing optics on your mobile device to gain the best perspective. If you have a newer Apple device, it will most likely work as it's currently compatible with iPhone XS, XS Max, XR, X or Multi-Device Clip.
The Super-Wide Pro suits similar users as the other two wide versions below it, but users can expect a better image quality thanks to its premium glass.
Olloclip Fisheye + Macro Lens
If you are after something more radical, then Olloclip's fisheye lens delivers. With an impressive 180° spherical effect, you will be able to create dramatic effects of endless scenery or expansive interiors.
The lens will work with the Connect X Lens System (iPhone XS, XS Max, XR, X or Multi-Device Clip) and when the Macro lens is used a whole new world awaits to be discovered. The Magnification enables sharp focus at short focal distances, which in turn provides beautiful blurry bokeh backgrounds.
Olloclip Telephoto Lens Range
Other lenses in the Olloclip range include the Telephoto 2x Lens and Telephoto 2x Pro Lens. Both versions work with the iPhone XS, XS Max, XR, X or Multi-Device Clip and produce images twice as close as what you would get from your standard camera. The difference is the Pro version uses higher multi-element coated glass optics to deliver premium image quality over the cheaper version.
Xenvo Pro Lens Kit
The Xenvo Pro Lens Kit is a combination of a Macro Lens & Wide Angle Lens. With a reinforced spring clip, a user can easily apply either lens to their existing camera. The Wide Angle Lens can capture 45% more picture, whereas the Macro Lens gets you 15x closer.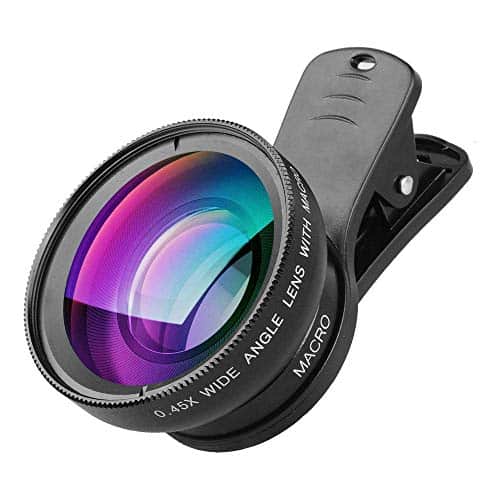 There seems to have been quite a bit of thought put into each lens as everything about them looks incredible. From the extra wide opening for ease of mounting to the universal compatibility, there doesn't seem to be any downfall.
It's only until you see the quality of these lenses against Moment's that you can actually see a difference in sharpness. In saying this, the Xenvo Pro Lens Kits would have to be the next best phone camera lenses out there.
Nelomo Universal HD Camera Lens Kit
If you are looking at the lower end of prices for an add-on lens to suit your Google Pixel, Apple iPhone or Samsung Galaxy, then the Nelomo Universal HD Camera Lens Kit is worth a look. Each lens included in the kit offers a sturdy build and covers a wide range.
Included is a 0.65x Super Wide Angle Lens, a 15x Macro Lens and a 230° Fisheye Lens. What you gain in focal length in the fisheye, you also gain back in your wallet when compared to the value of all three lenses against the price of a single Moment Wide Lens. So if you are looking for an alternative and cost is a factor, then the Nelomo kit is a great option.
Some of the Add-on Camera Kits To Avoid
Aukey Ora Camera Lenses
If you aren't after the best quality and you are limited to budget, the Aukey Ora Camera Lenses would be a good bet. Similar to the Xenvo Pro Lens Kit, Aukey offers the same setup, however with vastly different specifications.
The macro lenses, for instance, magnifies only to 10x, whereas the Xenvo zooms to 15x. The wide angle lens of 140° isn't as extensive as Xenvo's or Olloclip Fisheye + Macro Lens of 180°. In saying this, the only reason you might go to Aukey's system is to have some fun without breaking the budget.
AMIR 3 in 1 HD Camera Lens Kit
If you have been searching for an add-on lens kit on Amazon, then you would have probably seen AMIR's listings. This 3 in 1 kit comprises of three lenses, a low-dispersion 0.65X Super Wide Angle Lens, Enhanced 15X Macro Lens and a 230° Super Fisheye lens.
All three lenses utilize a clip-on-system to mount onto any phone camera. The manufacturer notes that if you have a case on your phone, it is best removed for optimal performance, so keep this in mind if you do decide on this setup.
Probably the only standout feature of the kit compared to the other is the 230° Super Fisheye lens. If you are planning on doing anything with 360° video or photography, then this could be a good fit.
Shuttermoon Camera Lens Kit
When you move to the lower end of the price range, you are likely to find the Shuttermoon Camera Lens Kit below $30. Amazon and eBay listings frequent this combination and for a good reason – it's affordable, and you get a lot of lenses included for the price.
For many people they look at this thinking it's a great deal, but if you delve in a bit deeper, you may notice your camera phone might not like the image quality produced from this kit.
The five lens kit includes a 2x Telephoto Zoom Lens, 198° Fisheye Lens, 0.63x Wide Angle Lens, 15x Macro Lens and a Circular Polarising Filter. It's not a bad deal, but looking at the optical quality, there's no way it matches the two recommended setups listed at the start of the article.
Something it has going for it above price and quantity is the inclusion of a circular polarising filter (CPL). Photographers who require a reduction of reflection in water or through glass will find the CPL filter very handy indeed.
Godefa Cell Phone Camera Lens Kit
If you thought the Shutttermoon Camera Lens Kit was a good deal, then you may not have seen the Godefa Cell Phone Camera Lens Kit.
Similar to the previously mentioned kit, the lens lineup is extensive. Boasting an 8x Telephoto Zoom Lens, 0.63X Wide Angle Lens & 15x Macro Lens, 198° Fisheye Lens, 6 kaleidoscope lens, CPL Filter, Tripod and Bluetooth camera shutter this kit has it all.
But unfortunately, the optical image quality of the glass lacks and you should avoid this kit like the plague.
Other phone camera Lens Models We Wouldn't Recommend for Google, Apple, and Samsung Phone Cameras
We thought it would be worth including this section for some other models you may come across. From our research, all of the add-on camera phone kits listed below lack the image quality you get from premium models.
While they are a good deal for a fun toy, they don't carry the same build and glass quality of some of the other recommended models. So if you see any of these models listed below, we recommend avoiding them also;
Jopree Lens Mini 3-in-1 KIt
CamKix Universal 3-in-1 Lens Kit
Bamoer 22x Telephoto Lens and Tripod
Apexel 8 in 1 Lens Kit with 18x Telephoto
In summary, looking for the best add-on lens for a Google, Apple or Samsung Phone is a mission. There are so many add-on lenses listed on Amazon and eBay it can become quite overwhelming to find the best one. Some of the things you should look at when deciphering the differences include the following:
Take price into consideration as this is a good sign you will be buying a great product.
Avoid paying for '5 in 1' or '8 in 1' kits as the lens quality isn't as good.
Focus on paying for the highest quality.
Amazon reviews can be manipulated; instead, read independent reviews.
Following this advice, you are most likely going to conclude with the same findings. The best phone camere lenses for Apple iPhone, Google Pixel or Samsung Galaxy is the Moment Wide Lens. If you don't own one of these camera phones then the add-on lens you should get the Xenvo Pro Lens Kit.
Learn more about Moment Lenses